Oxygen is essential to life. The human body can only survive for 2 minutes without it. Life on earth would cease to exist without Oxygen. But oxygen is not only essential to maintain life in organisms, it also helps to promote health. The health of our bodies is improved after a "breath of fresh air" taken for instance with a walk through a park. Our bodies feel more alive in an environment of clean crisp fresh air, than one of still and stale air. Scientists have recently proven that Oxygen is also vital for health and the good mood in general. This is the reason why we offer you a new and revolutionary oxygen microdermabrasion  where the air is enriched with oxygen and essences for total well-being.
Oxygenated glass ball percussion.
Pure oxygen is infused into the skin while a system of tiny glass balls repeatedly tap on its surface providing a gentle exfoliating massage. Clients using this treatment regularly will see signs of ageing alleviated and will notice good stimulation of cellular metabolism.
The pulsed infusion transfers pure doses of oxygen at controlled pressure into the spaces between the cells. This technique makes it possible to infuse the active ingredients of the specially formulated, extraordinary Dr. Meso range into the deepest layers of the dermis. Cellular respiration and circulation is restored and the skin gains elasticity and lustre. This is an excellent alternative to mesotherapy.
Ideal for:
Acne*
Stretch marks*
Cellulite*
Skin spots*
Wrinkles and expression lines
Acne Rosacea*
Psoriasis
Irritations
Scars*
Intolerance to the botulinum toxin — Botox
®
 alternative
Testimonial – Oxy Life Treatments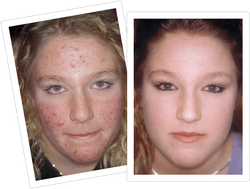 Working at a Toronto area hospital I am careful about what is presented to me as "clinical" or "cosmeceutical" when it comes to choosing a skin care professional and maintenance regime. Therefore when I spoke to Liliana regarding "Oxygen" facials, and she explained the detailed Meso-Aesthetic approach & philosophy I felt comfortable giving it a try…
I came with sensitive skin, rosacea and acne…a challenge for anyone….I have tried various lines and treatments….they may have worked for a time, but eventually my the dry skin with redness…and pimples returned. I've tried laser, photo facials, photo-rejuvenation… nothing has helped. It wouldn't hurt to try something I read about in the Canadian Medi-Spa Review. Liliana offered me Oxy Life's Infusion treatment. She also incorporates into her skin care protocols homeopathic treatments & remedies, treating the skin with a true clinical approach.
The next day my skin was clear, whiter, calmed down…. I was surprised that after just this one session, that there was no return for over a month of the dryness and redness which I was so dreaded.
The treatments with homeopathics improved the production of collagen in my skin; the Oxy Infusion delivered deep into the skin high quality, long acting, & slow release moisturizing agents. The Oxy treatment also helped diffuse the harmful & damaging skin bacteria & inflammation…
I am very pleased with Oxy Life Infusion,…my husband & colleagues certainly noticed the change. The improvement in skin lead to an improvement in my overall outlook….less stressed, more positive, looking forward to even a challenging day, without the worry of dry, flaky & red skin…Looking in the mirror each the morning used to be painful and frustrating. Now I approach the day confidently, and am very pleased with the complements regarding my skin.
I thank Liliana and recommend Oxy Life Infusion treatments to all...
Dr. MIHRAM F. November, 20012