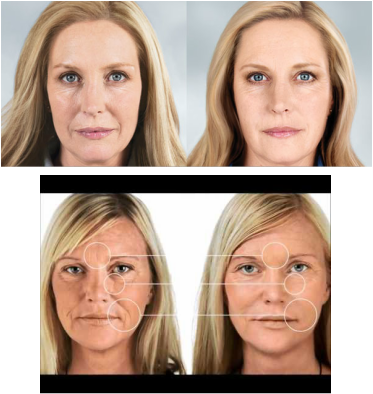 The facial aging process varies from person to person.
​The main causes are changes in bone density, loss or displacement of fat and the break down of
collagen and elastin.
Anti-aging prevention coupled with minimally invasive facial cosmetic treatments and surgical procedures can be your key to lessening the signs of aging. While some factors, like bone changes, can't be prevented, others like fat, collagen and elastin loss can be minimized. Lifestyle choices like diet and sun exposure can impact how quickly these factors
come into play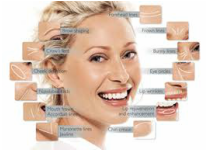 Viably Erase Wrinkles without Restylane or Needles?
Now you can have healthy, flawless-looking skin with DR. MESO COLLAGEN a safe, natural and non-invasive cosmetic dermal filler that restores volume and fullness to the skin to correct facial wrinkles and folds, such as nasolabial folds.
All wrinkles are not created equal. There are two distinct types:dynamic wrinkles are caused by facial movement, while static wrinkles are visible when the face is at rest. DR.MESO COLLAGEN For the best results, take a two-pronged approach with Filler that works in tandem to stop time – and visible sings of aging – in their tracks.

DR. MESO COLLAGEN Filler is formulated with non-animal stabilized Hyaluronic Acid, making this treatment allergy-free and bio-compatible, without the worries of transmitting animal-based diseases.
Hyaluronic Acid is a natural substance in the human body that aids in moisture retention in the skin because of its ability to hold up to 100 times its own weight in water. It also fills the space between the Collagen and elastin fibers, leading to the skin's plumpness.
Hyaluronic Acid is a superior hydrator, wonderful moisturizer – yet its not thick so will not clog pores. So, it is also recommended for oily acne- prone skin.
Please note that as one ages, levels of Hyaluronic Acid drops due to exposure to free radicals. Studies say that women over 50 could have already lost almost half of the hyaluronic Acid they had in their youth.

How can DR. MESO COLLAGEN filler help Me?  
By repairing mature skin, reducing wrinkles by filling them in, restoring volume and restrict muscle contractions! 
The manufacture recommends a series of six treatments done weekly. This product is placed on top of the wrinkled area to be affected, and then it is absorbed further into the skin with the help of a facial ultrasound machine by our technician.
The DR. MESO COLLAGEN Filler comes in two forms: Cream and Serum. The skin is pepped for treatment using the serum. The cream complements the serum by sealing the product within the skin to achieve optimum results. Use for wrinkles around the mouth, under eyes and folds from the nose to the corners of the mouth. We also carry the Bio-Matrix Eye and Lip Wrinkle Filler and a booster gel.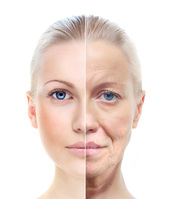 A youthful look depends on having the right amount of facial fat in the right places. Redistribution, accumulation, and atrophy of fat lead to facial volume loss
Some areas lose fat. Examples are the forehead and cheeks.
Other areas gain fat. Examples are the mouth and jaw
Modification of the fat pads leads to contour deficiencies
In addition, the areas of the fat tend to become farther apart. Instead of a smooth, almost continuous layer, the fat pads appear as separate structures.